NAESP Honors Distinguished Principals with a Two-Day Celebration
By Meredith Barnett
Communicator
October 2014, Volume 38, Issue 2
During this year's National Distinguished Principals (NDP) celebration, Kansas principal Paul Erickson issued a challenge to school leaders: model positivity.
Erickson, principal of Inman Elementary School in Inman, Kansas, and his 61 fellow NDPs swapped ideas and inspiration during NAESP's October 16-17 ceremony in Washington, D.C. As one session—a discussion on tough challenges such as Common Core, testing, and teacher evaluation—came to a close, Erickson said, "I'm putting a 30-day moratorium on complaining." He called on principals to face these obstacles with optimism.
That theme of positive, proactive leadership permeated this year's NDP celebration.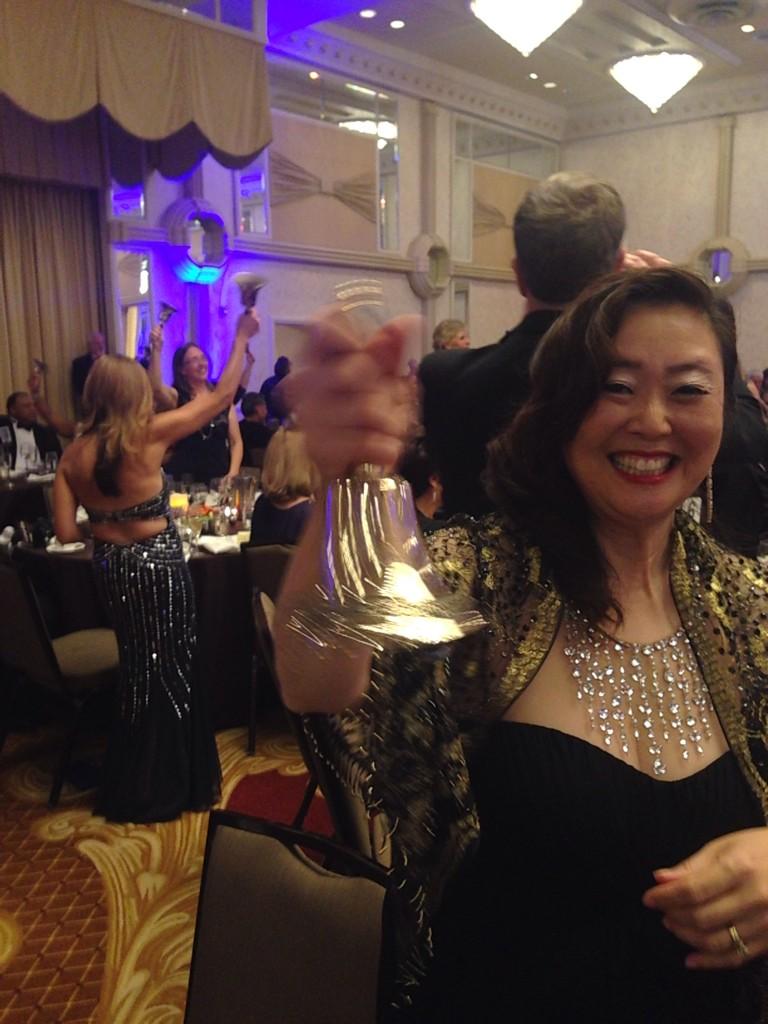 Hailing from public and private schools around the country and overseas, NDPs enjoyed two days of festivities, culminating in a banquet at the Capital Hilton Hotel. Each honoree was presented with the traditional NDP bell engraved with his or her name (pictured at left), as well as a framed certificate. U.S. Secretary of Education Arne Duncan delivered remarks, congratulating principals for their exceptional leadership.
"The difference strong leadership makes [in schools] is extraordinary," he said. He went on to tout the country's higher graduation rate, but stressed that schools have to be vigilant about closing achievement gaps.
"Our kids are as smart as any in the world; we just have to level the playing field for them," he said.
The banquet, which has been sponsored for over 25 years by VALIC, served as a capstone for the celebration of this year's class of NDPs.
While in Washington, D.C., the NDPs gathered for a discussion with Jill Levine, the Department of Education's 2014 Principal Ambassador Fellow. Levine appealed to principals to offer their insights on Common Core, teacher leadership, the principal pipeline, and more—feedback she will bring back to the Department of Education.
NDPs, decked in bright purple leis (a special gift from Hawaii NDP Duwayne Abe), also had the opportunity to share two-minute speeches about their schools, and share mementos from their schools and states. Participants rounded out their NDP experience with a group photo in front of the White House and a presentation on non-verbal communication with renowned body language expert Janine Driver.
During the program, NDPs took to Twitter to share their reflections. Principals and their Twitter followers exchanged an unprecedented 718 tweets with the #naespNDP hashtag. Echoing many NDPs' sentiments, Maria Iozzi, principal of Red Bank Middle School in Red Bank, New Jersey, tweeted, "Amazing experience, beautiful ceremony! One to treasure forever. Congrats to the NDP class of 2014!"
Picking up on Erickson's challenge to overcome negativity, Julie Raschen, principal of Brooks Elementary School in Newnan, Georgia, tweeted, "Accepting the challenge… It's time to spread the good news!"
Established in 1984, the NDP program honors outstanding elementary and middle-level administrators who ensure that America's children acquire a sound foundation for lifelong learning and achievement. Read about each state's honorees.
View a slideshow of selected photos below (courtesy of Lifetouch), or a full wrap-up or the celebration in pictures on Storify.
—
Copyright © 2014. National Association of Elementary School Principals. No part of the articles in NAESP magazines, newsletters, or website may be reproduced in any medium without the permission of the National Association of Elementary School Principals. For more information, view NAESP's reprint policy